Curriculum Components
The Power of Storytelling
Throughout history, stories have been used to help reach and teach children important
cultural lessons. Together, Shakti and her Warriors use their powers to teach children
how to defend against Chaos in their homes, schools and communities.
Blended Learning
With our Online Gaming Platform (for the students) and a set of Hands-on-Learning Tools (for the teachers), engagement has never been so fun!
Our Lesson Plans
40 Lesson Plans – weaving Educational Neuroscience with Social and Emotional Learning. Blended Learning at it's finest!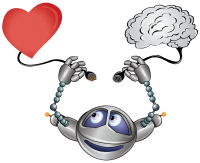 Educational Neuroscience
COMING SOON - ECHO VIDEOS!
Our adorable ECHO is fascinated by the human brain. Why? Because he doesn't have one. He's here to help you share valuable knowledge about the brain such as: the Amygdala ("hot spot"), the Prefrontal Cortex ("power spot"), your stress response, and the importance of social connections to a students brain development.
"Being all about the brain… really starts with being all about the heart."    Echo
Content Providers
Our Warriors are the urban, hip spokes-people for industry experts in the fields of educational neuroscience and educational psychology, mental well-being, and more.
We encourage you to take a closer look at their informative work and research.
Speaking Engagements and Professional Development
If you are interested in bringing one of these passionate educators to your schools we can assist. Click Here.
Contact Us for Custom Pricing
We're moving almost all of our curriculum and professional development online so we can provide into you at a minimum cost.